Who Is Heather and Lisa?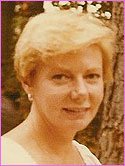 Heather Torbert is the mother of Lisa Torbert, the owner of Heather's Holistic Health. She died at the age of 66 from diabetes. Her many talents included art, music and writing. In addition to these, Heather passed on to Lisa some endearing qualities such as the ability to love and care about people, to give everything you have, accept people for who they are, help people to get through tough times, and a good sense of humor whenever possible. Heather's life was not easy, as she became addicted to drugs and alcohol in her twenties. She also suffered with depression most of her life. At the age of forty, after years of trying, she finally was able to "kick the habit" of drugs and alcohol forever. She was a member of Alcoholics Anonymous and celebrated 27 years of sobriety. However, she substituted into some very unhealthy "other addictions" such as smoking, caffeine and food addictions (chocolate, sugar and carbohydrates).

Lisa Torbert writes:




"I am so proud to be so much like my mom, having inherited so many of her wonderful talents. She had a profound effect on my life because of her life long struggles with addictions and depression.



Heather gave Lisa the incredible gift of ambition and desire to take a chance, make a change, and offer a new way to help people achieve optimal health. Thanks to Heather, we are able to offer a touch of heaven to everyone that visits our center.
Lisa gives new meaning to the words "been there done that," with her diverse
array of talents, education, experiences, and achievements. Her ADHD worked
to her advantage as an overachiever, conquering the business world by running a
successful holistic health center in Dover, DE along with two other businesses.
Her darker days, growing up in an Alcoholic family, molded her into the selfless
giving careers as a Counselor, Hypnotherapist, & QRA Practitioner. She has
overcome tragic lifelong sicknesses & diseases, healing from emotional illness
and 18 different physical diseases. She not only holds a Masters in Counseling
and is a Certified Addictions Counselor (CADC), she has earned the title of
"addict" and understands emotional complexity. Her playful spirit enjoys guitar,
keyboards, singing, songwriting and art. Her most satisfying gifts in life are the
love from her family; husband, kids, parents, grandkids and her Shelties, Ziggy &
Zeplin. She is determined to share the secrets to the healing power deep within our immune system. What distinguishes her from others authors is her personal branding,
where she takes complicated and makes it easy, mixes facts and statistics
with humor and pictures, all organized into a refreshing, innovative and interesting
journey…a handbook to healing.